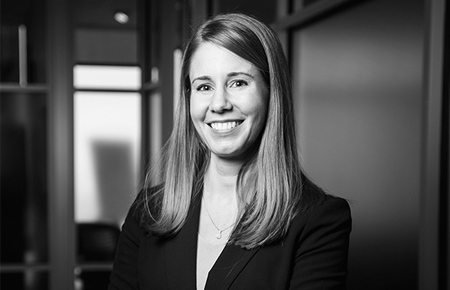 Katie Johnston
CFA
Senior Vice President
Katie Johnston is a Senior Vice President at BVA Group and is responsible for overseeing the execution of a variety of valuation engagements with a focus on the energy industry. Ms. Johnston has extensive experience in advising and assisting clients with the valuation needs for financial reporting, tax planning, and litigation purposes.
Ms. Johnston has ten years of valuation experience including seven years at Duff & Phelps, LLC where she was a Vice President in the Energy and Mining Practice. Ms. Johnston's experience in the energy industry includes the valuation of oil and gas reserves both on and offshore in the U.S. and internationally, including assets located in Ecuador, Columbia, India, and offshore West Africa. Additionally, she has extensive experience valuing tangible and intangible assets in the midstream, oilfield service and power generation industry.
Ms. Johnston's valuation experience includes valuations for the purposes of mergers and acquisitions, financial reporting (with a focus on "fair value" accounting for goodwill impairment and business combinations), federal, gift and estate tax, dispute consulting, and bankruptcy. Ms. Johnston has significant experience regarding the valuation of a variety of securities, including publicly-traded and closely held common stock (on both a controlling and minority level), preferred stock, stock options and warrants, partnership and joint venture interests and debt instruments. She has also provided valuations of inventory and personal property. Ms. Johnston's intangible asset valuation experience includes customer relationships, trade names and trademarks, patented and unpatented technology, non-compete agreements, software, assembled and trained workforce, and contracts (including power purchase agreements and transportation agreements).
Engagement highlights include valuations related to several multi-billion dollar acquisitions in the energy industry including Kinder Morgan Inc.'s $38 billion acquisition of El Paso Corporation and Regency Energy Partners' $5 billion acquisition of PVR Partners. Additionally, Ms. Johnston provided financial advisory services related to the sale of a multi-national oilfield service company's North American operations.
Ms. Johnston holds a Bachelor of Business Administration in Finance from the McCombs School of Business at the University of Texas at Austin. She holds the Chartered Financial Analyst® designation from the CFA Institute, and is a member of the CFA Society of Houston and the CFA Institute.