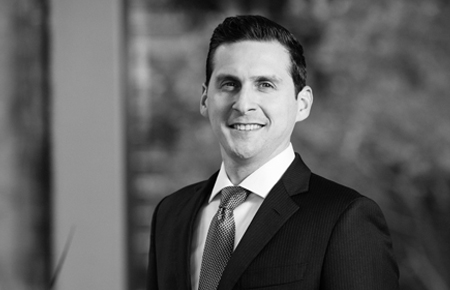 J.R. Radcliffe
CFA
Managing Director, Corporate Development
J.R. Radcliffe is responsible for leading BVA's strategy and corporate development activities, including identifying and executing strategic growth initiatives, implementing operational improvements, and spearheading the firm's strategy development process.
Prior to rejoining BVA in August 2019, Mr. Radcliffe attended business school where he focused his studies on mergers and acquisitions, strategy and competitive advantage, and executive leadership. In addition, he gained experience working in private equity, focused on investing in and growing middle-market industrial services businesses.
Previously, Mr. Radcliffe served as an Executive Vice President at the firm, where he advised clients for over 10 years on valuation and corporate finance issues in connection with mergers and acquisitions, complex commercial disputes, and bankruptcy matters. Mr. Radcliffe has overseen dispute consulting engagements on behalf of Verizon Communications Inc., Anadarko Petroleum Corporation, and Repsol S.A., among many other well-known companies and investors, providing critical guidance in situations involving billions of dollars at stake. In addition, he has advised clients on numerous M&A transactions, offering expertise on issues such as valuation, solvency, and deal structure. Throughout his career, Mr. Radcliffe has served a diverse clientele comprising firms ranging from Fortune 100 companies to venture-backed startups and operating in a wide variety of industries, such as business services, technology, financials, energy, power, engineering/construction, telecommunications, and media.
In addition to his client advisory work, Mr. Radcliffe previously served on the firm's executive leadership team, helping to direct various strategic and operational functions, including talent recruitment and development, strategy formulation and execution, business process optimization, and other firm management activities. During his 3-year executive tenure, Mr. Radcliffe played an integral role in leading BVA through an extraordinary period of expansion and transformation. In addition to spearheading strategic and operational initiatives that contributed to annual growth in revenue and EBITDA of 35% and 50%, respectively, Mr. Radcliffe also oversaw the implementation of critical systems and processes and instilled foundational cultural values that continue to support BVA's growth and operational excellence today.
Mr. Radcliffe received his MBA from The Wharton School of the University of Pennsylvania, where he graduated with honors and triple majored in Finance, Strategic Management, and Operational Effectiveness. In addition, he graduated Magna Cum Laude from Southern Methodist University, earning a BBA in Finance and a BA in Economics. Mr. Radcliffe also holds the Chartered Financial Analyst designation and is a published author and speaker on the topics of valuation, solvency, economic damages, and corporate finance.